The Copperbelt Energy Corporation PLC (CEC) has become aware of a scam intended to dupe the public into believing that CEC has issued a tender for CCTV camera products as shown below.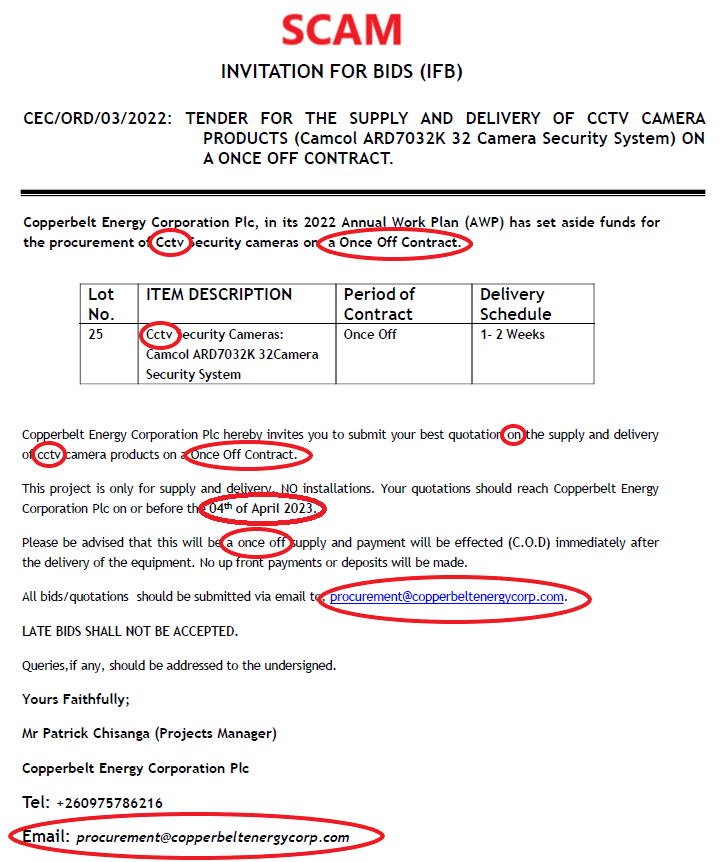 This is the work of a fraudulent scammer, and the public is warned from participating in this and any other tenders purportedly issued by the Company, when in fact not.
As a general precaution, do not respond to tenders, job vacancies and any offers purportedly issued by the Company without verifying the authenticity. Any information from CEC intended for the public is published on the Company's website, official social media platforms and in widely circulating newspapers. Anything that is not posted on these platforms is very likely untrue. Also look out for telltale errors, such as the format of email addresses, spelling mistakes, language choice and other grammatical inconsistencies. Examples of these are circled.
When in doubt, contact CEC directly:
Phone:
+260 212 244 199
+260 212 244 060
+260 212 244 263
Email: [email protected]